Well, it's official, I've fallen behind! We're starting week 5, but I'm still on week 3! Week 3 is about optimizing your website, or websiteS and making sure you have a coherent and consistent image throughout the web. Right now, I have 6 websites for my music: Facebook fan page, myspace, reverberation, Sonicbids, youtube, and my own website. Let me tell you first hand, it's a lot! haha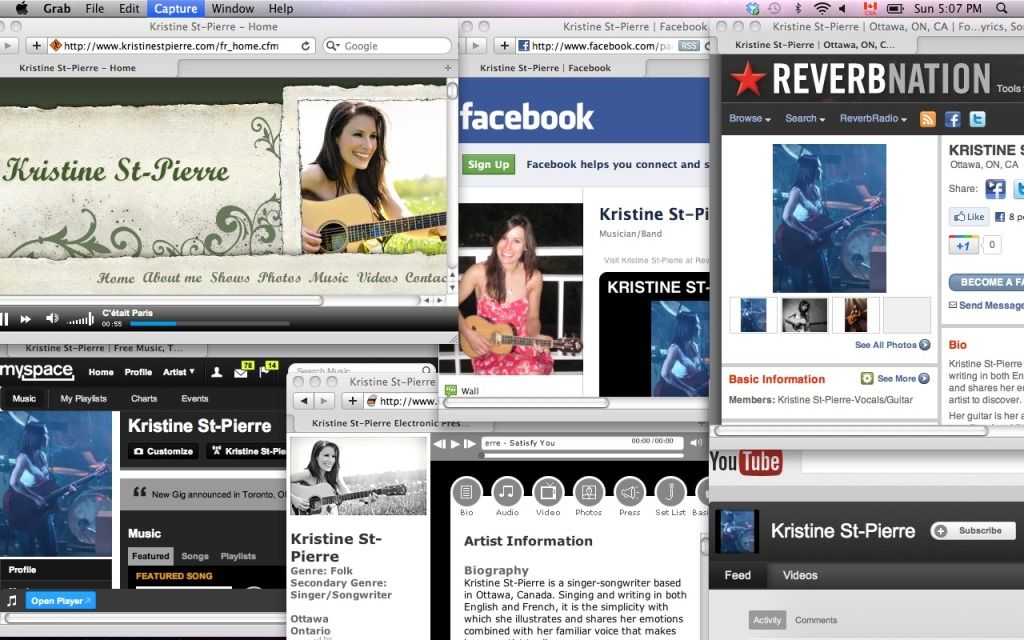 While the goal of this exercise is to make sure that I am conveying a similar image throughout the web, it seems like it would be so much simpler if I had an actual CD to promote or a "look-and-feel" I could use. But I don't, so I'll work with what I have! So, I went through all my websites and inserted my pitch (see week 2) or at least part of it, used the same profile picture, and attempted to standardize the colour scheme (well except my main website which remains green!).
And well, I caved in and joined twitter (please follow me!!!
@kristinestp
) :) So 7 is the official count. I have a feeling some of you are thinking "7?? that's nothing!" Ok, so maybe it's a lot, maybe it's not…one thing is for sure, it's a real pain keeping them updated and remembering all my passwords! haha
Here's the after shot of the websites...a bit more coherence :)
So, that's all for week 3. Apart from that, I am opening for
Blue Blue Satellite
in Toronto on Feb. 25! It's a private show and I have 4 spots for my Toronto friends. So if you'd like to come, message me here asap! (or send me my first tweet!!)
Ciao,
Kristine
p.s. I forgot to mention one exciting thing that happened on our way back from Cuba! As I mentioned in week 2's blog, we met a few couples from Ottawa while in Cuba and every time we'd see them, they'd ask if I was going to play a song. Being the shy person that I am, I always put it off to later. BUT!!! I finally found the courage at the airport, just before boarding the plane back to Ottawa: I played a Tom Waits song on ukulele! I don't have any pics to prove it, but it's true!! It actually felt really good and I think they were really happy :)