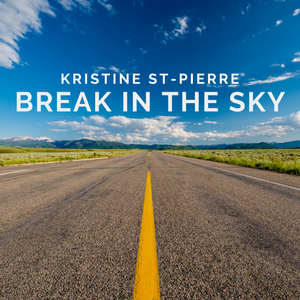 Ottawa-based folk singer-songwriter Kristine St-Pierre releases the uplifting folk-country song BREAK IN THE SKY. The song marks Kristine's first official English release since the release of her bilingual CALL ME CRAZY album in 2012. While audiences will have heard this song at concerts, they will now be able to take it home with them. To bring the song to life, Kristine called upon long-time collaborators Dean Watson at Gallery Recording Studios (production, drums, bass), Raphael Weinroth-Browne (cello), Justin Lacroix (vocals and mandolin), and Chris Zimmerman (drums). The song is mastered by Jay Fee at Conduction Mastering. The song is inspired by Kristine's own journey and questioning about life and its numerous paths. While recorded prior to our current situation, the song's hopeful message and uplifting melody may actually be what many of us need to get through these trying times.
Title: Break in the Sky 
Duration: 3:29 
Songwriter/Composer: Kristine St-Pierre 
Producer: Dean Watson, Kristine St-Pierre 
Content: 100% Canadian 
ISRC: CA7PL2000002 
« Kristine St-Pierre delivers soul-searching songs in both languages. »
Kristine St-Pierre is an award-nominated bilingual folk singer-songwriter with soul-searching ballads and a rollicking bluesy flair. Described as a 'chansonnière' with a travelling heart, Kristine's voice combined with her beautifully crafted songs are increasingly gaining her attention on the Canadian music scene. She has released a bilingual EP in 2010, followed by the bilingual album CALL ME CRAZY in 2012. In 2017, she released the francophone EP LA PROMESSE for which she received a Canadian Folk Music Award nomination in the French songwriter of the year category in 2018, as well as a nomination for Francophone artist of the year by the Country Music Association of Ontario in 2019. In 2019, she released an album of original Christmas songs with Franco-Manitoban artist Justin Lacroix. Kristine has played to audiences across Canada and the world, and she hopes this new music will bring joy and comfort in these difficult times.
For information or media: 613-697-7245 • info@kristinestpierre.com • www.kristinestpierre.com