English follows
Cinq ans après la parution de son album bilingue « CALL ME CRAZY », Kristine St-Pierre nous revient avec « LA PROMESSE », un EP francophone de six chansons à saveur pop entraînante, tout en restant fidèle à son style folk introspectif et sensible.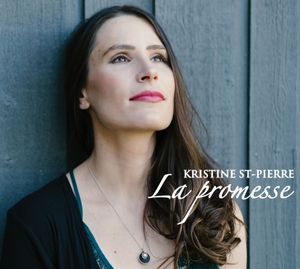 « LA PROMESSE » propose une réflexion à la fois épurée, délicate et compliquée sur des sujets qui nous rassemblent - la vie, la mort, l'amour, la rupture, la société, le monde. Cette promesse est aussi une promesse envers soi-même, de continuer, de partager son message, de ne pas se laisser abattre. Une promesse de vivre pleinement, sans regret. Puis c'est aussi une promesse envers d'autres qui n'ont pas la même opportunité de faire entendre leurs voix. 
L'album fut réalisé par Dean Watson au Gallery Recording Studios à Ottawa et masterisé par Jay Fee à Conduction Mastering. Pour compléter l'album, Kristine fait appel à des musiciens et musiciennes qu'elle admire et avec qui elle partage déjà une belle amitié – Raphael Weinroth-Browne au violoncelle, Simon Poirier-Lachance à la batterie, au cajon, aux percussions et au piano, Catriona Sturton à l'harmonica, Clayton Connel au clavier et Dean Watson à la basse électrique.
« LA PROMESSE » a été rendue possible grâce à l'aide financière du Conseil des arts de l'Ontario et de la Ville d'Ottawa. Le EP sera disponible sur toutes les plateformes numériques à la fin novembre.

LANCEMENT MONTRÉAL
Date: 2017-11-29 
Genre: Chanson, Franco, Pop, Folk
Heure: 19h00 (portes 18h00) 
Endroit: Cafe Shaika
Prix à la porte: $10 (montant recommandé)
Événement Facebook: https://www.facebook.com/events/115126025821184/
LANCEMENT OTTAWA
Date: 2017-11-30  
Genre: Chanson, Franco, Pop, Folk 
Heure: 19h30 (portes 19h00)  
Endroit: LIVE on Elgin
Prix: $15 (en ligne www.liveonelgin.com); $20 (à la porte)
Événement Facebook: https://www.facebook.com/events/112708549447099/
RSVP Médias - Présence et demandes d'entrevues: 
info@kristinestpierre.com ou au (613) 697-7245
---
Five years after the release of her bilingual album "CALL ME CRAZY", Kristine St-Pierre returns with "LA PROMESSE", a French EP of six catchy pop songs, while remaining true to her introspective and sensitive folk style. 
"LA PROMESSE" (The Promise in English) offers a reflection at once refined, delicate and complicated on universal topics including life, death, love, heartbreak, society, the world. This promise is also a promise to oneself, to continue, to share one's message, not to be defeated. A promise to live fully, without regret. Finally, it's also a promise to others who do not have the same opportunity to make their voices heard. 
The album was produced by Dean Watson at Gallery Recording Studios in Ottawa and mastered by Jay Fee at Conduction Mastering. To complete the album, Kristine called on musicians she admires - Raphael Weinroth-Browne on cello, Simon Poirier-Lachance on drums, cajon, percussion and piano, Catriona Sturton on the harmonica, Clayton Connel on the keyboard and Dean Watson on the electric bass. 
"LA PROMESSE" was made possible thanks to the financial assistance of the Ontario Arts Council and the City of Ottawa. The EP will be available on all digital platforms in late November.